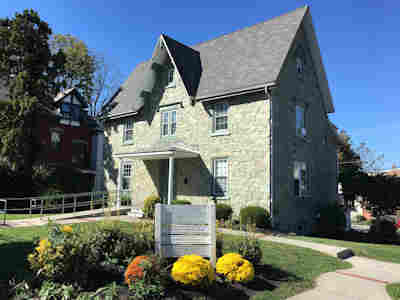 My office is located at:
203 W Chestnut Street, Ste 202
West Chester, PA
Phone: 610-314-0799
Fax: 610-601-5999
When you arrive at the building, after coming in the front door, walk straight up the stairs to the second floor and then keep turning right until you see my little waiting area in front of my office door.  If the hang-tag on the knob says, "Come on in!" then, by all means, come in.  During the summer, I need to keep the door closed, at least most of the way, to keep the air conditioning in.
My Availability:
I monitor my messages Monday through Friday from 9am to 7pm.
By appointment, my general hours of availability for sessions are:
Mondays 11:00 am -5:00 pm
Tuesdays 6:00 pm -8:00 pm
Wednesdays 11:00 am -2:00 pm & 6:00 pm -8:00 pm
Fridays 11:00 am -4:00 pm
* Please Note: Some slots within the above listed time ranges are currently occupied by on-going clients.  I will do my best to accommodate your scheduling needs.  We can discuss these details during the phone consultation or while we are setting up your initial appointment.
Office Parking Options
Free Parking
Looking at the map below, the
blue lines
indicate areas where you may be able to find a free parking spot. 
In my experience, your best bet (if you don't mind walking a few blocks) is to start driving down Darlington from Chestnut Street, and keep driving until you find a spot somewhere on the left.  THE ONLY EXCEPTION TO THIS IS TUESDAY AM UNTIL 11:00.  There is no parking on Darlington that morning.
Metered Parking
Also looking at the map below, the green lines represent areas where you can park on the street and need to pay the meter.  The two green rectangles are lots that have metered spaces.  The one that is directly across N Darlington Street only has a few metered spaces, the rest are by permit only.
Parking Meters can be paid for with the Passport phone app (there is a small service fee) or by using QUARTERS.  The meter does not take any other forms of change or bills.  Cost is $0.75 per half-hour, with a 3-hour limit, during the following times:
Monday thru Wednesday 8am-10pm
Thursday & Friday 8am-12am
Saturday 5pm-12am